The ACCESS Harrow Youth Centre offers a FREE after school program that runs Monday through Friday from 3:30 – 6:00 pm. Our program is available for anyone in Grades 1 through 8. We pick your children up from their school and walk with staff and volunteers to our Youth Centre.
Our program has an emphasis on teaching kids how to live a healthy lifestyle and how to have fun while doing it!
Our daily activities include nutritious snacks, healthy eating and nutrition tips, personal health and wellness tips, physical activities, homework assistance, social skills and so much more! We also offer a weekly arts and crafts day on Thursday's during our program.
We also offer evening programming for high school youth, thanks to a generous donation from Libro Credit Union.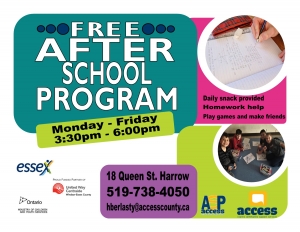 For further inquiries, please contact:
Georgina White
ACCESS Harrow After School Program Coordinator
519-738-4050
gwhite@accesscounty.ca