Garden-To-You
Let us bring a garden to you!
Working with multiple municipalities, schools, community groups, businesses and other not-for-profits, ACCESS has built and supported dozens of community gardens. Our garden beds come in all sizes including accessible designs, allowing people of all ages and physical abilities to participate in bringing fresh, healthy food into their communities and homes.
Our Grow Rack program allows our partners to start their seeds in the winter, encouraging year round interest and engagement in food security without stigma.
Our Garden-To-You program is inclusive, allowing ACCESS to provide gardens and grow racks at low or no cost to communities and partners.
Beds are available for individual/private purchase, please contact Ryan Couture.
For more information contact:
Ryan Couture
Garden Coordinator
519-733-8983 ext. 34
rcouture@accesscounty.ca
Social Enterprise and Employment
ACCESS, with partners, operates a Social Enterprise CSA (Community Supported Agriculture). Shares are purchased by partners, providing them with organic produce every week during the growing season.
The farm offers inclusive work to individuals with parries to employment while also fostering new work skills and appreciation for and understating of healthy food.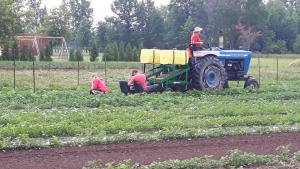 Come partner with us!
By partnering with local schools, organizations and communities, ACCESS has been able to engage hundreds of participants in celebrating healthy food while ensuring the values of excellence, inclusion and fun.
For more information contact:
Ryan Couture
Nutrition Manager
519-733-8983 ext. 34
rcouture@accesscounty.ca